Oct 14, 2020
Impatiens Necrotic Spot Virus
A lot of you have recently shared about your concern of lettuce plants infected by Impatiens necrotic virus. Impatiens necrotic spot virus, also known as INSV is a tospovirus closely related to Tomato spotted wilt virus. Infected plants usually have leaves with brown to dark brown necrotic areas. Sometimes the symptoms may be confused with "chemical burn". As necrosis progresses the leaf browns or die out. Plants infected in early stage may become stunted and die or become unmarketable.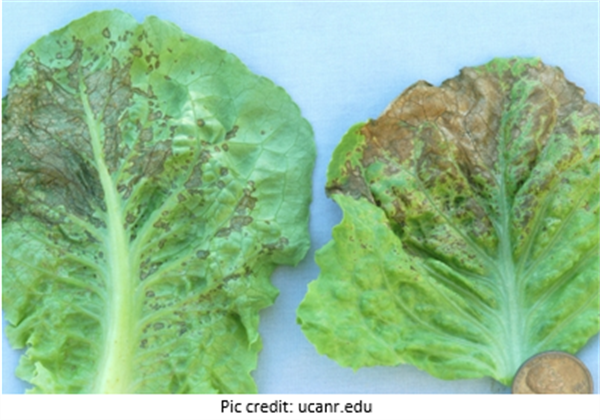 What makes this virus of high economic importance?
The plants become unmarketable which is the ultimate economic loss. But there are factors that facilitate the virus outbreak.
The first one is efficient transmission by its vector (s). The virus is transmitted by western flower thrips, Frankliniella occidentalis.
If you remember our virus transmission series in past newsletters, thrips transmit viruses in persistent propagative manner. Insects have to feed on virus infected plants for hours/days to acquire the virus and the virus has to incubate for hours/days in the insect. After insect can transmit the virus throughout its lifespan. The virus can multiply in the vector system and often the virus particles are also passed on to the insect offspring. Adult thrips can transmit these viruses only if acquired in the larval stage of development. Larval thrips will feed on a virus-infected plant, pupate, and emerge as a winged adult capable of transmitting the virus. The thrips then will carry the virus for life.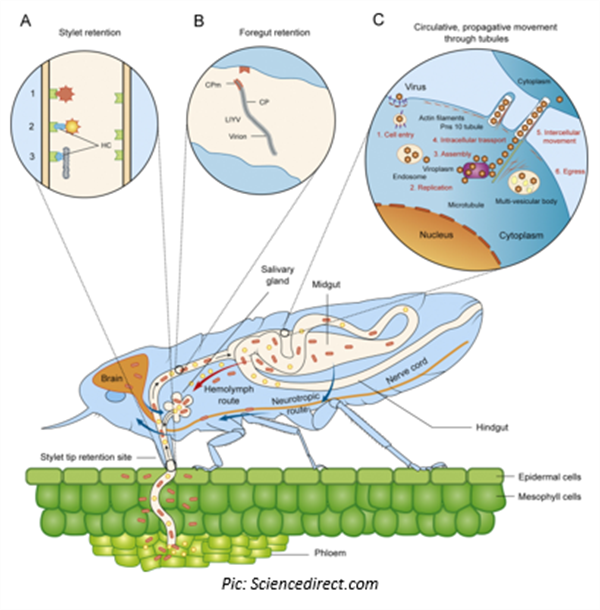 The next contributing factor is host range. INSV infects large number of ornamental and vegetable plants. We are talking 600 species of plants that are susceptible to INSV and thrips love flowers.
While it may not be practical to remove all your ornamentals in fear of INSV, it is definitely practical to monitor thrips population in your field. As the legend says, "When in doubt, scout".
And if you need diagnosis, drop the samples in the clinic!