Predicting and Mitigating Resistance Development in Whiteflies
First Principles of Resistance Management

Insecticide resistance threatens economic & effective pest control, especially when chemistries are used to target a common pest across multiple crops such as whiteflies. Six modes of action (MoA) are available for managing whiteflies across all crops in Arizona (Table 1). Difficulty in discovery of new chemistries and increasing costs of regulation of new chemistries (Fig. 1) make it essential that we preserve & extend the life of each MoA through integrated resistance management (IRM) programs. Understanding and using first principles of resistance management help growers & PCAs proactively manage resistance.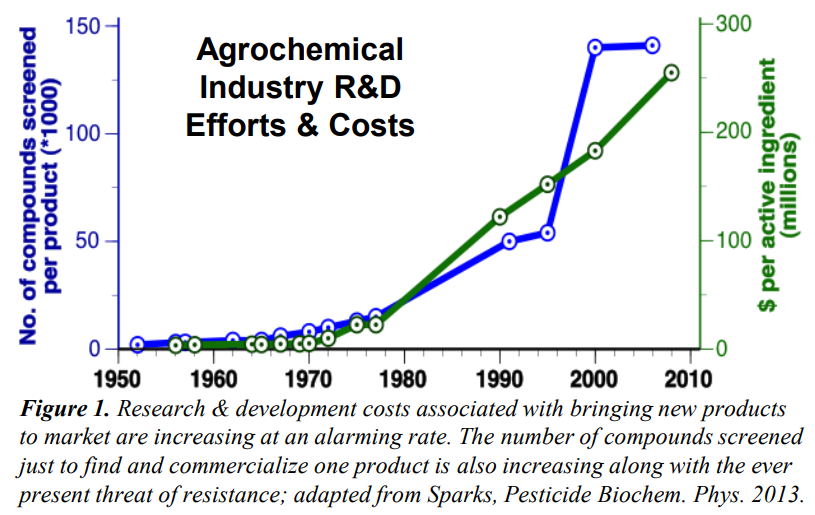 1) Limit use of chemistry to the lowest practical level:
Resistance management depends on IPM. The first step therefore is to apply insecticides only when necessary. This includes regular scouting and the use of action thresholds and other IPM tactics. Avoiding unnecessary use of insecticides reduces selection pressure on pests and delays resistance development.
2) Diversify modes of action used:
Rotating MoAs lessens selection pressure. In order to successfully diversify chemistry, rotate among MoAs, not just active ingredients (AI) within a single MoA (Table 1). MoA classifications can be found on the IRAC website, where a mobile app is also available.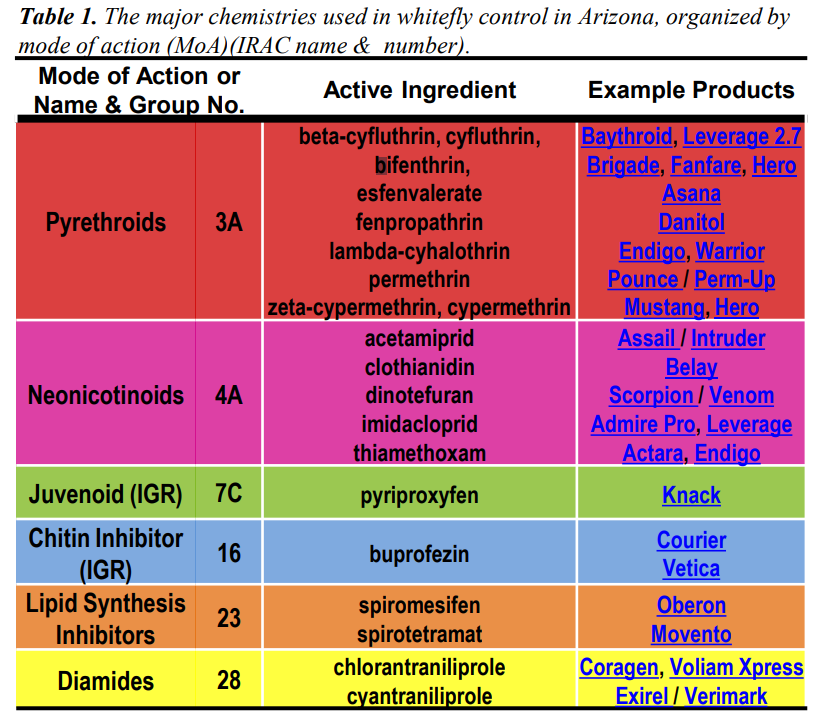 3) Partition chemistry through space or time:
Partitioning chemistry is a way to arrange use to avoid spraying the same MoA against an entire population (space) or against every generation of a target pest (time). Partitioning the use of chemistry throughout the agricultural landscape and through time creates refuges. Refuge management preserves places or time periods where target insects are not being exposed to a specific MoA. Without refuges whiteflies are more likely to develop resistance to insecticides due to repeated exposures.
Knowing when, where, and what is being treated and the MoAs used is critical
to effectively partition chemistries through space or time. As a result, pest managers need information about surrounding fields. If fields in your area are treated often with a limited number of MoAs, whiteflies in your fields are at a higher risk for developing resistance to the AIs within those MoAs (Fig. 2). Areas with high densities of whitefly-sprayed hosts (melons, cotton, etc.) have higher risks of resistance. Avoid applying insecticides with the same MoA to the same areas or consecutively through time. As an advanced landscape management measure, farmer-to-farmer communication and cross-commodity cooperation are critical to all those involved in the industry.