The general overall turf appearance differs with nitrogen and iron deficiencies. With nitrogen deficiency, leaves will show a minimum of two and sometimes three different shades of light green, in swatches across the lawn. There is usually NO yellowing associated with the multiple shades of light green turf present. While on hands and knees, compare the green color of the uppermost (younger leaves) with that of the lower (older) leaves. The lower leaves are lighter in color, sometimes turning to straw. Couple this with the fact that the entire lawn has multiple shades of light green color and you can be relatively sure the turf is nitrogen deficient. Long-term (chronic) nitrogen deficiency results in decreased shoot density, few, if any clippings, poor recovery from traffic, and a near constant production of seed heads (especially in bermudagrass).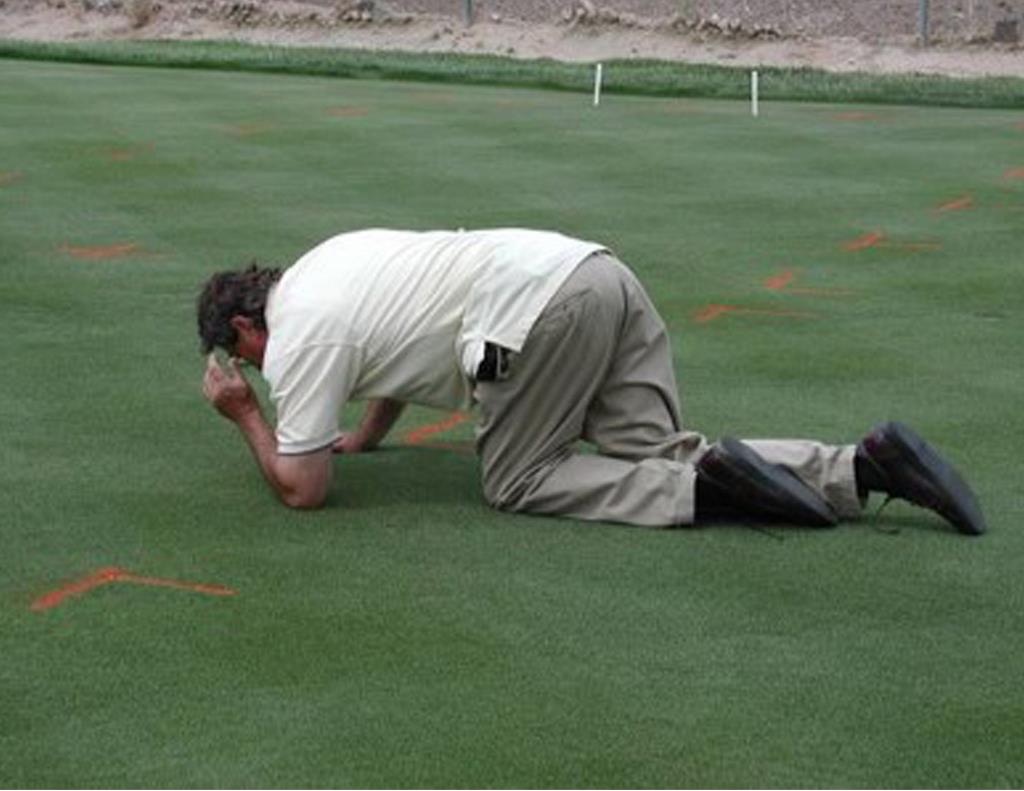 Inspecting Turf on Hands and Knees
In the case of iron deficiency, the initial color change in the lawn can take two forms. At first, the lawn will have a light green cast across its top surface. It may occur in swatches across the lawn, just like a nitrogen deficiency. But now, when you look at the lower leaves, they are darker. The lawn looks like it was sprayed with a lighter color green on the top ½ inch of the grass, while the lower portion of the canopy is a darker green. This is a subtle, but noticeable condition and represents a very slight case of iron chlorosis (without leaf yellowing).
The next phase in the development of a slowly developing iron chlorosis situation is the appearance of yellow color on the youngest leaves at the top of the plant. When true chlorosis sets in, the yellowing of the leaf begins at the tip, and then progresses to the base. When the yellowing is about 2/3rd down that leaf, iron chlorosis begins at the TIP of the next lower leaf. This process follows in leaf age order, and always from leaf tip to leaf base. Note that an iron chlorotic (yellow leaf) turf can occur suddenly, without proceeding through the initial pale green-over darker green condition (very slight iron deficiency) previously described.
Treating an iron deficiency with nitrogen only makes things worse. The greening power of nitrogen will NOT mask an iron deficiency. In fact, it almost always makes it worse. In severely iron chlorotic turf, the addition of nitrogen can produce white leaves and/or leaf death (straw).