Exception occured while executing the controller. Check error logs for details.
Lettuce, (Lactuca sativa L.), is native to the Mediterranean area and was domesticated in Egypt around 4,500 B.C. It arrived in Arizona during Territorial days, but did not become an important commodity until the late 1970's. Today, Arizona ranks second, following California, in production of lettuce. Lettuce production in Arizona includes head, leaf and romaine lettuces, and is the State's leading cash crop averaging more than $300 million in value. There are approximately 75,000 acres of lettuce grown in the southwestern United States.

Approximately 45,000-55,000 acres of the lettuce are grown in Arizona, 95% of which is produced in the lower Colorado River and Gila River Valleys of Yuma County where elevation is below 100 feet (Fig. 1).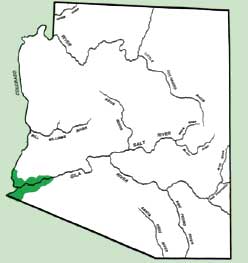 Figure 1. Primary area of lettuce production in Arizona.
Other production areas include Cochise County in southeastern Arizona, and Maricopa, Pinal and Pima Counties in central Arizona.
Yuma County is characterized by having hot summer temperatures and moderate winter temperatures. Summer temperatures average 87° F with an average daily maximum of 104° F. In winter, the average temperature is 55° F and average daily minimum is 40° F. Rainfall in Yuma County averages less than 3 inches annually, most of which falls during August and September.
In Arizona, most lettuce is seeded using a StanHay type planter (Fig. 3). These are precision planters that utilize rubber belts with small holes spaced to deliver a single pelletized seed. Holes in the rubber belts are usually spaced 1-1 « inches apart. However, some growers prefer to plant to stand to reduce thinning costs. Seed is usually planted at a depth of 1/8 to 3/8 inches with 10 to 15% of the seed being visible in the seed row after planting. Pelletized seed is planted at the rate of 6 to 8 pounds per acre which should result in about 6 to 12 seeds per foot of row. This will result in a plant population of 20,000 to 26,000 plants per acre after thinning. The seeding rate is largely a function of the planting date, method of irrigation and variety to be planted. The crop should be thinned, after the first two true leaves have developed, to approximately 10 to 14 inches between plants depending upon the head size of the variety planted.
Planting date is primarily a function of the variety and desired harvest date. Planting begins as early as late August and continues into the middle of December. Plantings prior to October 15 are considered to be fall lettuce, and later plantings are considered spring lettuce. Harvesting takes place primarily from December through March. Optimum germination and growing temperatures vary depending upon the variety planted.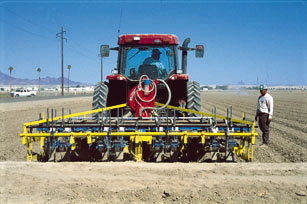 Figure 3. Lettuce planter.
Lettuce passes through six distinct development stages: seed, cotyledon, seedling, rosette, cupping and heading periods. The seed stage occurs from pre-planting to emergence. Once exposed to water and appropriate temperature, the seed will begin germination, usually requiring as little as 12 hours for fall planted varieties or up to 7 days for winter planted varieties. Once the plant sheds the seed coat and emerges from the soil, it enters the cotyledon stage. The cotyledon stage last until the plant is able to better establish its roots. Once the root has grown a couple of inches, the seedling begins to grow upwards and the first true leaf emerges. From emergence from the soil to the first true leaf usually requires approximately 7 days for fall planted lettuce and 20 days for winter planted lettuce. The seedling stage occurs from the first true leaf until the plant develops a distinct circular cluster of leaves known as a rosette. The rosette stage for fall planted lettuce will generally last 25 days, but may last as long as 50 days for winter planted lettuce. Cupping begins when the tips of the inner leaves begin to curl inwards on the edges. Cupping signifies that the beginning of head formation is near, and will usually last about 7 days for fall planted lettuce and 14 days for winter planted varieties. Heading begins once the cupped leaves begin to overlap and cover the growing point of the plant. Head formation will continue until the crop is ready for harvest, which generally last about 30 days for fall planted varieties and about 45 days for winter planted varieties. Fall planted lettuce may require as little as 65 days from the beginning of germination to harvest, while winter planted lettuce will require as long as 120 days.
Information provided by:

David L. Kerns, dkerns@ag.arizona.edu, IPM Specialist
Michael E. Matheron, matheron@ag.arizona.edu, Plant Pathologist
John C. Palumbo, jpalumbo@ag.arizona.edu, Entomologist
Charles A. Sanchez, sanchez@ag.arizona.edu, Soil Scientist
David W. Still, Seed Physiologist
Barry R. Tickes, btickes@ag.arizona.edu, Extension Agent, Yuma County
Kai Umeda, kumeda@ag.arizona.edu, Extension Agent, Maricopa County
Mark A. Wilcox, Extension Agent, Yuma County
University of Arizona, Tucson, Arizona.
Exception occured while executing the controller. Check error logs for details.