Blister beetles (family Meloidae) are found throughout Arizona. These beetles contain a defensive chemical (cantharidin) that may be harmful to humans and other animals. Blister beetles are often times confused with other similar looking beetles that do not produce cantharidin. Blister beetles are found in many different sizes and colors. However, they all share the characteristic feature of a broad head that is wider than the thorax ("neck"). This, combined with broader elytra (wing covers), creates a distinct "neck-like" appearance (Fig. 1 & 2). They also have just 4 segments in their hind tarsi (Fig. 1). Blister beetles may be confused with checkered beetles, soldier beetles, darkling beetles, ground beetles and others beetles (Fig. 2–6).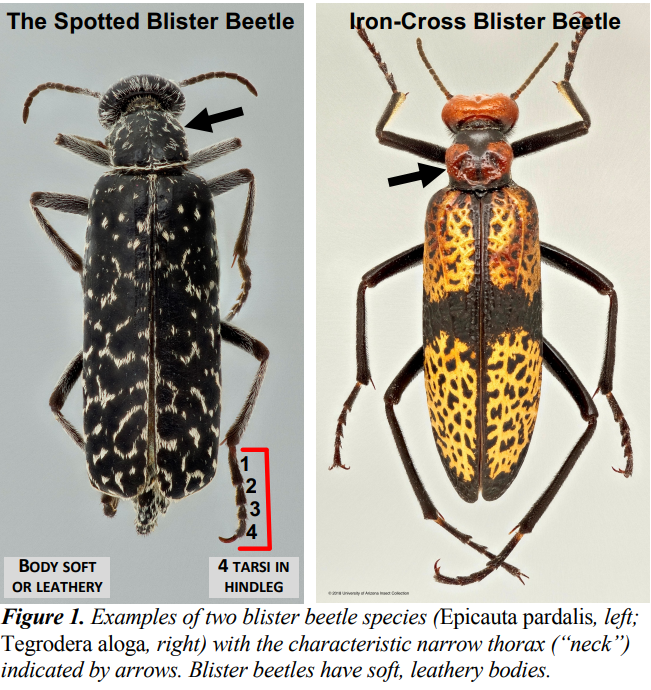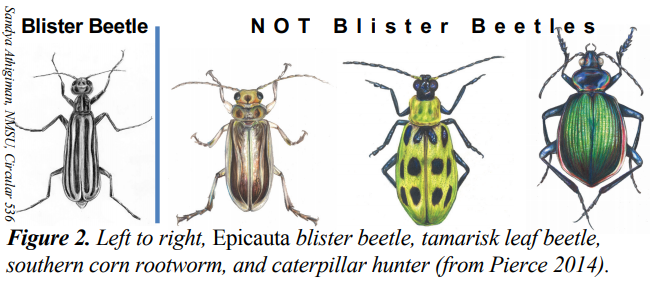 Soldier Beetles (F. Cantharidae)
Soldier beetles are similar to blister beetles in that their bodies are soft or leathery, but they are flatter in shape than blister beetles. Their thorax ("neck") is wider than the head and tends to extend over the base of the head (Fig. 3).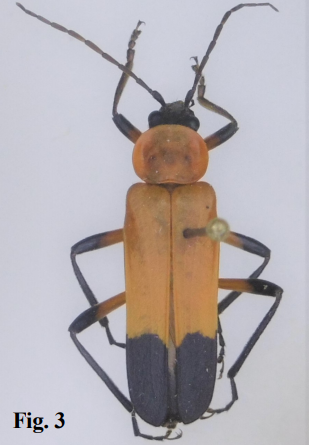 Darkling Beetles (F. Tenebrionidae)
Like blister beetles, darkling beetles have 4- segmented hind tarsi, but a thorax ("neck") that is wider than the head, and they have hard, shell-like bodies (Fig. 4).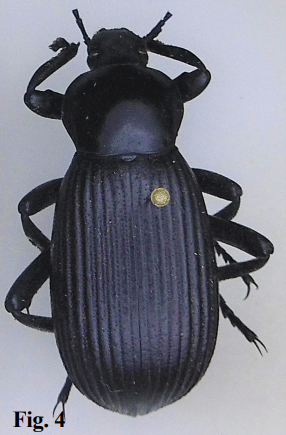 Ground Beetles (F. Carabidae)
Ground beetles also have a thorax ("neck") that is wider than the head and will oftentimes have ridged forewings (elytra) and hard, shelllike bodies (Fig. 5).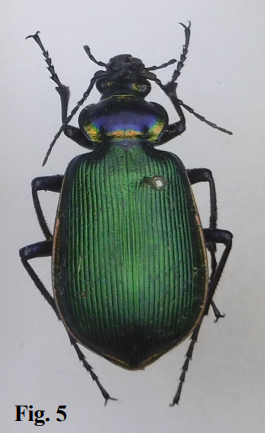 Checkered Beetles (F. Cleridae)
Checkered beetles have a thorax with a similar "neck-like" appearance as in blister beetles, however, checkered beetles can be easily distinguished by the cylindrical nature of their thorax and from the bristly hairs covering the entirety of their hard body (Fig. 6).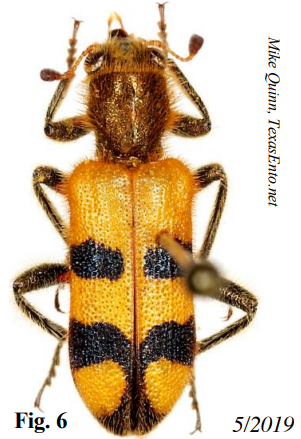 Other Resources:
Hall, WE, LM Brown, N Pier, PC Ellsworth. 2019. Blister Beetles in Food? U. Arizona. https://cals.arizona.edu/crops/cotton/files/BBinFood.pdf
Pierce, JB. 2014. Blister Beetles in Alfalfa. Circular 536. New Mexico State University. https://aces.nmsu.edu/pubs/_circulars/CR536/