Nov 23, 2021, 19:44 PM by UofA, Maricopa Ag Center
View as PDF
View this email on our site
Subscribe to this newsletter

---
Please consider distributing this newsletter to others
---
Not All Termites Are Terrible
Shaku Nair, Dawn H. Gouge, Shujuan Li
Department of Entomology, University of Arizona
Termites are often regarded as major structural pests, often dreaded by home and building owners because a few species attack wooden materials used to build homes and other structures. However, termites play a vital role in nature by recycling wood and other cellulose-based organic matter and returning it to the soil, enhancing soil structure with their tunneling activities. They also serve as a food source for a variety of predators in the landscape. It is very important to be aware that some common termite species are not structural pests at all (Figure 1).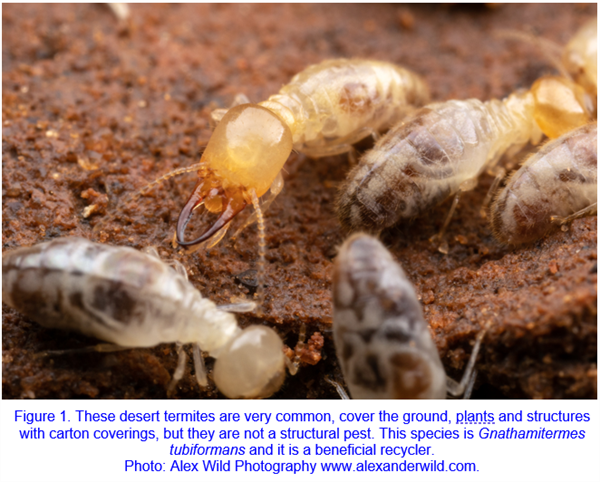 Termites are social insects and live in organized colonies containing different castes, each performing specific functions and varying in their appearance (Fig. 2). A typical colony contains a single pair or several 'reproductives', workers and soldiers. The reproductives or 'alates' are often larger than the other castes and have fully functional eyes and wings (Fig. 3), but the wings are shed after their mating flights.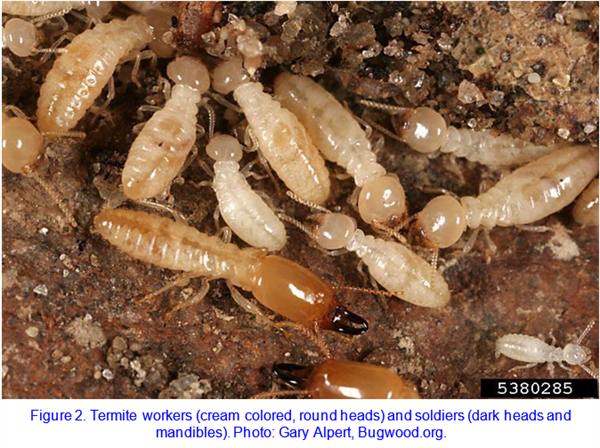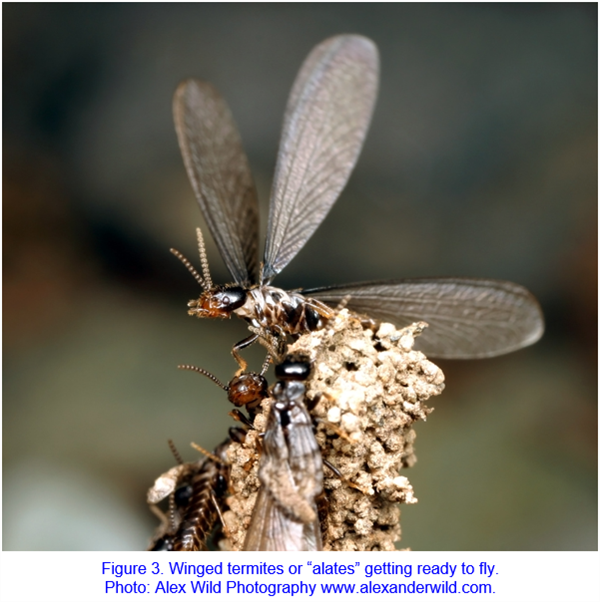 Winged termites are sometimes confused with ants. However, here are some characteristics that can help to differentiate them (Fig. 4). Ants have two pairs of transparent wings of unequal size, while termites have four equal-sized wings that generally fold over the back. In addition, ants have a narrow "waist" behind their wings, but the abdomen is completely straight in termites. The antennae of ants are elbowed, whereas the antennae of termites are straight and filamentous.
Major groups of termites in Arizona
Subterranean termites
Subterranean termites get their name from the habit of nesting below ground level. In their natural habitat, they attack various kinds of woody material including roots and stems of desert trees and bushes, wooden fence posts (Fig. 5 A-D), and even simply dead vegetation on the ground (Fig. 6). In Arizona and much of the southwest (west Texas, New Mexico, Arizona, southern California) the desert termite Gnathamitermes tubiformans is either the most common or second most common species. This species is a subterranean termite, but NOT a structural pest at all. However, other species such as the desert subterranean termite Heterotermes aureus are important structural pests. When homes and other structures are built in their preferred habitats and their natural food sources are removed, they begin to attack human homes and structures and can cause considerable economic damage over time.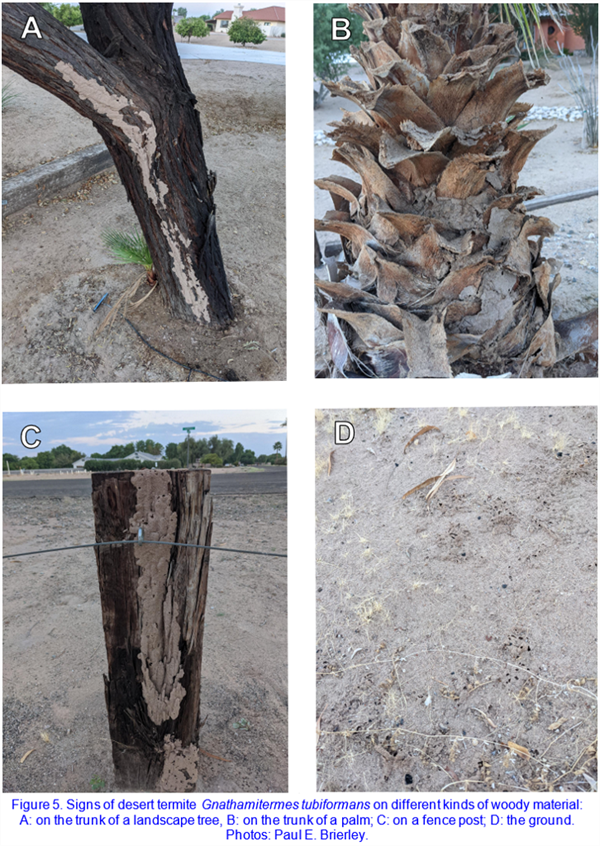 Although they prefer dead and moist wood, they are widely known to consume dry, sound wood as well as other materials that contain cellulose such as paper, cardboard, bamboo flooring, and fabric. Around homes and structures, damage is commonly noticed on utility poles and posts, structural timbers such as floors, beams, and rafters.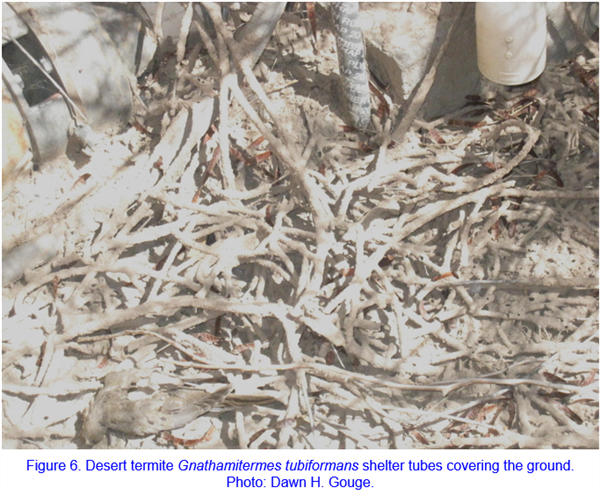 At least ten species of subterranean termites are found in the desert southwest. The arid land subterranean termite Reticulitermes tibialis is widespread, and the desert subterranean termite Heterotermes aureus are problematic species. They enter structures through wood that is in direct contact with soil, or by building shelter tubes against structures. In general, subterranean termites are attracted to moist soils and moist wood. Heavy rainfall, plumbing leaks, burst water heaters, or landscape irrigation pooling against buildings all generates wetter structural wood vulnerable to attack. Warm temperatures additionally promote termite activity. Any wood or cellulose material directly connecting a structure to the soil, including trees, vines, or plumbing fixtures, can serve as a pathway to infestation. Subterranean termites have been reported to chew through foam insulation boards, plaster, drywall, and a few species even tackle thin lead, and copper sheeting, and asphalt in an attempt to reach food sources. They are known to spread wood decaying fungi. Tunnels or cavities in damaged wood generally ALONG the grain of wood (Fig. 7).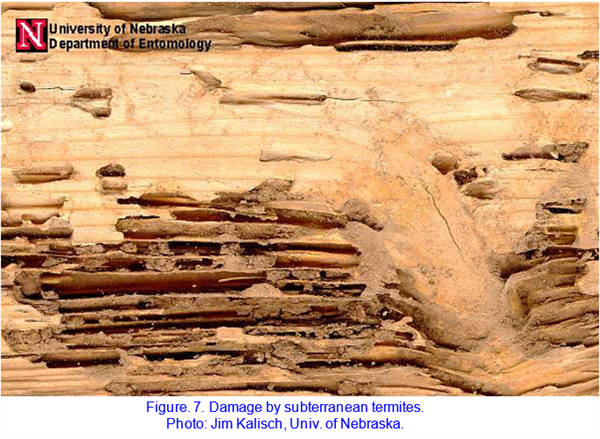 Signs:
Mud tubes (shelter tubes) (Fig. 8 and 9).
Damage to wood (blisters, or dark sunken areas).
Swarms of winged termites inside (Fig. 10).
If mud tubes are broken and reveal live termites, an active infestation may be present.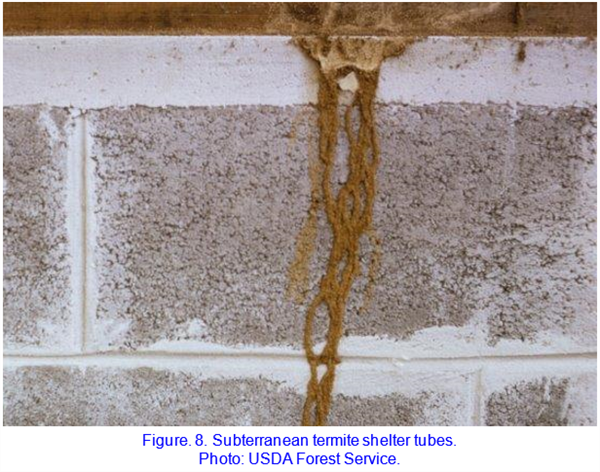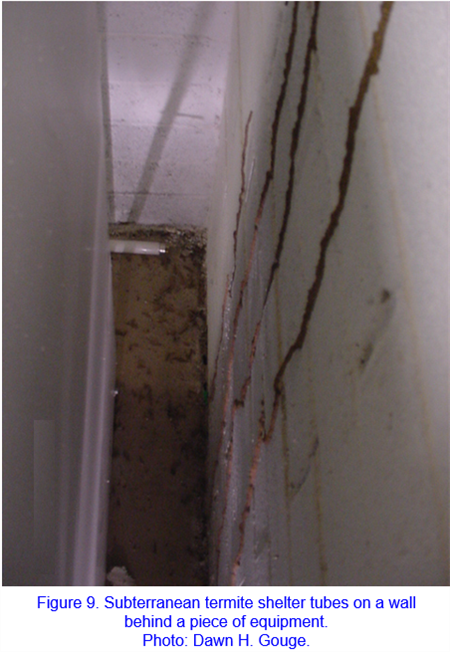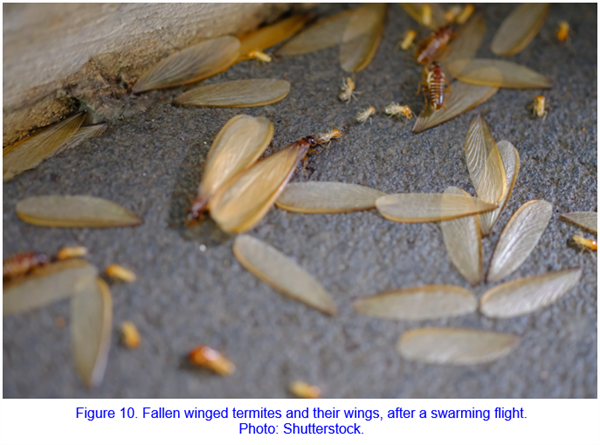 Drywood termites
The dark western drywood termite Incisitermes minor, and the light western drywood termite Marginitermes hubbardi, can attack dry wood including structural lumber, dead limbs on trees, utility poles, decks, fences, lumber in storage, and furniture. They are capable of infesting wood that is not in contact with the ground. Unfinished wood is particularly vulnerable.
Dead trees, branches, brush, and firewood from residential areas are their primary habitat. When land is cleared and houses or other buildings constructed, these structures are then subject to attack. Alates (winged termites) periodically swarm from infested wood to infest additional nearby wood. Drywood termites enter structures through attic or foundation vents, directly through or under wood shingles, under eaves and fascia boards, and through natural cracks, checks and joints in exposed wood trim, window and door frames and sills. They can penetrate flat wood surfaces but prefer to wedge themselves into narrow places to begin tunneling. Tunnels or cavities in damaged wood generally ACROSS the grain of wood.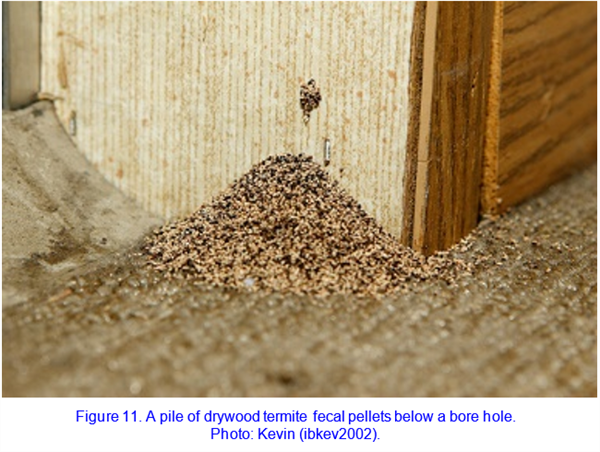 Signs:
Piles of fecal pellets below bore holes on wood (Fig. 11).
Winged adults inside a home or structure.
Fallen wings on windowsills or caught in cobwebs.
If pellets in a spot are removed and new ones appear in a few days, an active infestation may be present.
Dampwood termites
Typically, dampwood termites infest large pieces of wood that are in contact with or buried in soil. Wood damaged by dampwood termites shows large numbers of large, open, and irregular tunnels that vary greatly in shape and size. Fecal pellets are found throughout the tunnels. Individual pellets are about 1/25 inch long, hard, smooth, and elongated oval in shape like a football. The pellets often lose their shape because of the moist conditions in the galleries, and form clumps or a muddy paste if there is too much moisture. In drier wood, the pellets collect within the galleries, and may also be expelled out of the wood.
As with drywood termites, the presence of fecal pellets alone does not indicate an active infestation. If pellets in a spot are removed and new ones appear in a few days, an active infestation may be present. Due to their preference for high moisture, the presence of dampwood termites is an indicator of water leaks or wood decay in a structure.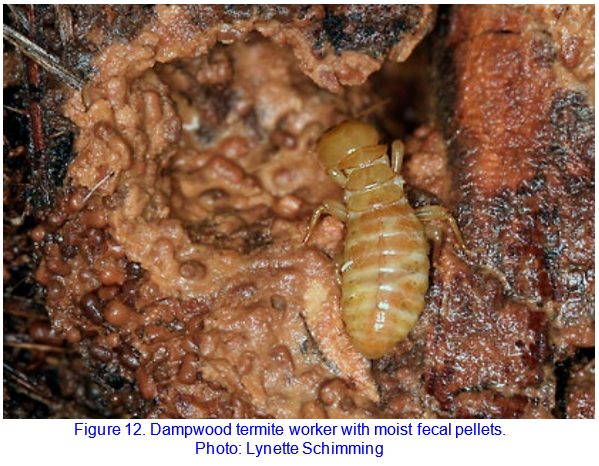 Signs:
Piles of oval, smooth fecal pellets that lose their shape and form clumps or a muddy paste (Fig. 12).
Infestations can extend into sound, dry wood, but once the moisture source is removed, the colony will decline.
Size and damage comparison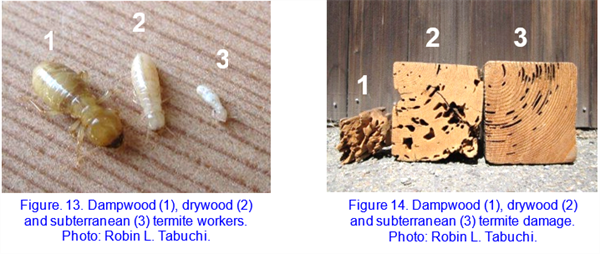 Figures 13 and 14 compare workers and damage by three common types of termites seen in Arizona.
How to know if you have termites?
Be aware about termites and their damage. Most people do not realize they have termites until they see swarms or damage to their property. Conduct regular inspections inside and out so if they show up you can address them as soon as they arrive.
Know the difference between termites and other swarming insects.
Preventing termite infestations
Keep the soil around your building foundation dry by maintaining proper grading and drainage.
Keep rain gutters and downspouts clear and flowing freely away from buildings.
Repair and seal cracks and gaps in the foundation and walls, including utility line entry points.
Repair leaks promptly.
Keep landscape trees and shrubs trimmed, maintaining at least 2 feet gap with the walls.
Avoid piling firewood, construction material and other items against building walls or in the yard.
Keep your yard and property free of fallen, dead or dying trees or vegetation.
Treating termite infestations
There are a number of non-chemical and chemical methods of treatment available. However, it is best to seek professional help to treat an established termite infestation, because it may require specialized knowledge and equipment to identify, access and apply treatments effectively.
Not all pest control service providers are experienced in treating termites, so choose your provider carefully. Gain an understanding about the methods and products used and all the management options available to you.
Read more about Arizona termites in our Extension publications:
Arizona Termites of Economic Importance: https://extension.arizona.edu/sites/extension.arizona.edu/files/pubs/az1369.pdf
Termite Management for Homeowners:
https://extension.arizona.edu/sites/extension.arizona.edu/files/pubs/az1356.pdf
Read more about pest proofing in our publication available here: https://extension.arizona.edu/sites/extension.arizona.edu/files/pubs/az1677-2015.pdf


---
November is National Family Caregivers Month
Since at least 2000, presidents have designated November as National Family Caregivers Month to honor the more than 40 million caregivers across the country who support dependent parents, spouses, children, or other loved ones. In addition to paid caregivers, there are an estimated 16.8 million unpaid caregivers who provide care to a child with special needs under the age of 18 in the U.S.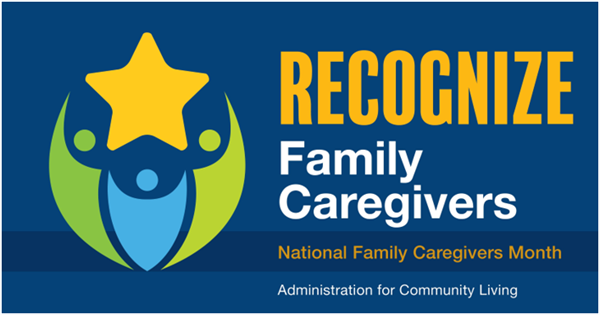 Graphic source: U.S. Department of Health and Human Services, Administration for Community Living
In an aging nation, volunteer caregiving lessens the strain on the country's medical system and provides at least $375 billion worth of service annually. Up to 30 percent of American adults are involved in some level of caregiving toward an ill or disabled loved one.
There are nearly 41 million people with a disability nationwide — 12.6 percent of the noninstitutionalized population. Among people age 65 and older, around 33.4 percent have at least one disability.
Children, the elderly, and those in poor health are the most vulnerable to adverse effects of pest exposure and poor pest management practices.
We dedicate this month to the in-home and professional caregivers of Arizona.
---
What the Heck was This!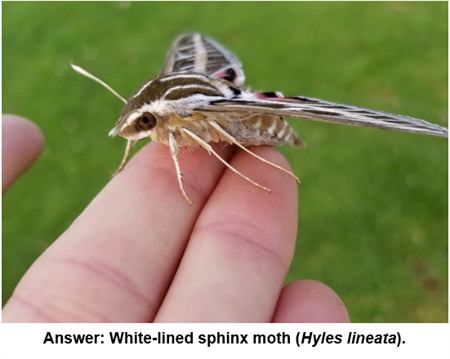 Congratulations to Master Pest Detectives: Alison Stoltman, Anthony Knight, Allen Tanner, Shain Emerine, Angela Petersen, Donna Lorch, Rita Bricker, and Roger Lawrence
What the Heck Did This?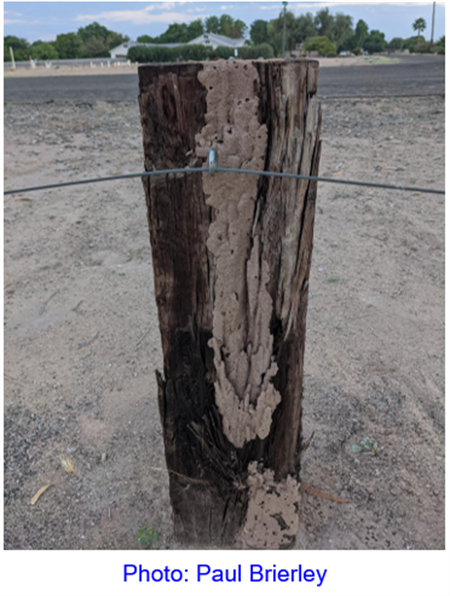 If you know what these are email the answer to Dawn at dhgouge@email.arizona.edu. You will not win anything if you are correct, but you will be listed as a "Master Pest Detective" in the next newsletter issue.
---
Ongoing and Upcoming Events
---
Pest Management and Pesticide Safety Seminar: An In-Person and Virtual Series of Presentations for turf, golf course and landscape personnel. Monday, December 6, 2021, 7:30 am to 2:00 pm at Papago Golf Club, 5595 E. Karsten Way, Phoenix, AZ 85008. 6 Hours CEU's AZ Dept. of Agriculture and PMD, GCSAA have been applied for. Lunch will be provided.
EPA Webinars offering AZ Credits
Jeepers Creepers - Managing Troublesome Vines. (90-minute webinar): Tuesday, December 7, 2021 12:00 PM - 1:30 PM MST.
The encroachment of invasive, weedy vines threatens the ecology of many ecosystems, including rights-of-ways, Tribal lands, and home landscapes. During this webinar, experts will explain how to manage mile-a-minute vine, kudzu, and poison ivy to protect the function of local ecosystems and provide a more suitable habitat for wildlife. Presenters will also discuss the role goats can play as part of an integrated vegetation management program. This webinar is geared toward foresters and arborists, municipal land managers, grounds managers, and Tribal leaders. 1 AZ CEU will be issued.
Register at: https://register.gotowebinar.com/register/7491787875391761166
---
View recordings of previous EPA Integrated Pest Management Webinars at https://www.epa.gov/managing-pests-schools/upcoming-integrated-pest-management-webinars.
For more information about the EPA Schools program: http://www.epa.gov/schools/.
---
To view all our previous newsletters, visit: https://acis.cals.arizona.edu/community-ipm/home-and-school-ipm-newsletters.
---
Acknowledgements
This material is in part funded by the National Institute of Food and Agriculture, U.S. Department of Agriculture, under award number 2017-70006-27145 that provides Extension IPM funding to the University of Arizona. Information regarding this document is within the guidelines of the Border 2020 Program funded by the U.S. Environmental Agency (EPA) and administered by NADB. Additional support is provided by the U.A. – Arizona Pest Management Center.