Exception occured while executing the controller. Check error logs for details.
Accurate, real-world data are critical to evaluating the success and economic outcomes of integrated pest management (IPM). Without benchmarks, industries cannot track their progress.
The Crop Pest Losses Impact Assessment Signature Program of the Western IPM Center supports the development of data on costs and impacts of pest insects, weeds and plant pathogens and their management in western crops.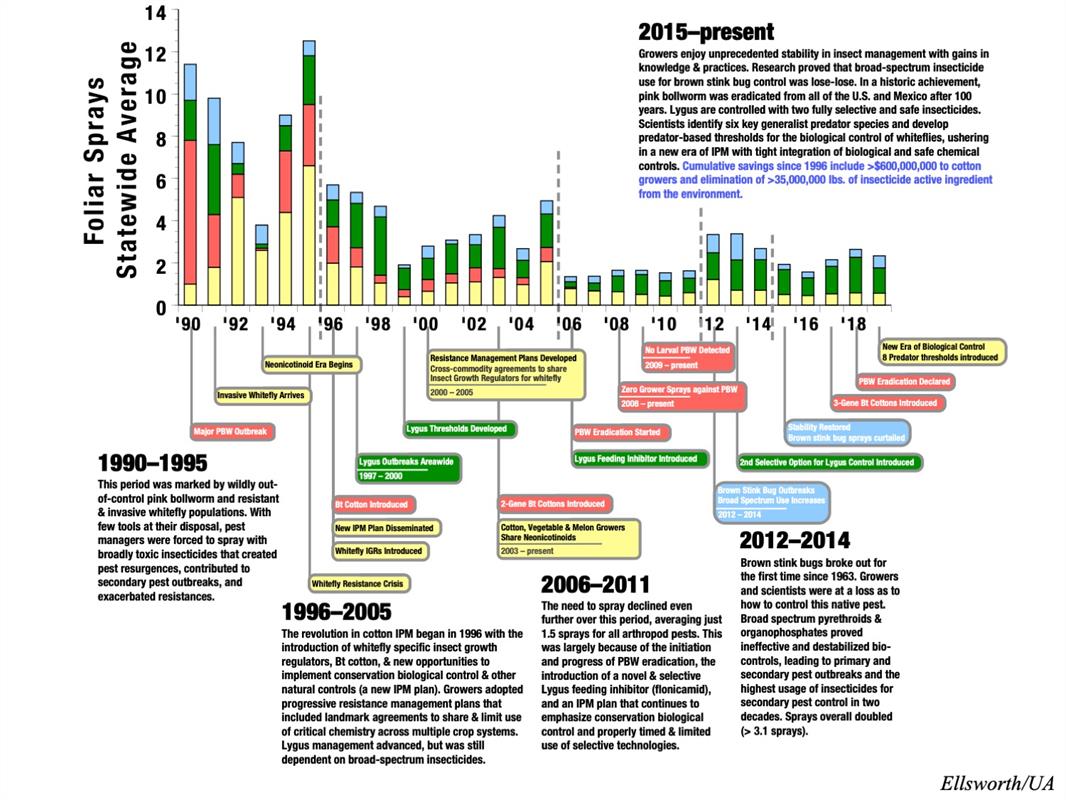 Funding. This program is funded as a Signature Program of the Western IPM Center. Our activities are leveraged by resources from the Arizona Pest Management Center and USDA-NIFA Crop Protection and Pest Management, Extension Implementation Program.
We work directly with licensed pest control advisors and crop consultants who serve as primary decision makers for pest management. By engaging the most knowledgeable stakeholders, we gather the most accurate data possible in our Annual Crop Pest Losses surveys. Data collected includes:
Number and location of acres surveyed
Potential and actual crop yields
Estimated yield losses by pest type (e.g., insects, weeds, plant diseases) and other factors (e.g., weather, management issues)
Estimated yield losses linked to specific key pests
Crop management practices and costs
Technology costs
Pesticide use and costs
General discussion on pest issues during the year or crop season

Data developed through the Crop Pest Losses Impact Assessment Program have yielded many benefits to crop industries and researchers, including:
Improved understanding of how specific pests and management practices impact production costs and outcomes
Identification of industry needs and priorities for research, education and pesticide registrations to address current production challenges
Early identification of emerging pest trends, which can enable a proactive industry response
Over the long-term, annual survey data reveals trends and shifts in practice that provide important benchmarks for crop industries
As part of the survey process, pest managers develop data that can be used to promote the value of their services to grower-clients
At meetings, pest managers gain access to the latest IPM research from Extension specialists
Data have been used in Extension publications and presentations to promote adoption of IPM technologies that reduce pests as well as risks to applicators and the environment
Data have been used to educate growers, pest managers, regulatory officials, government officials, university administrators and other researchers
Data have supported special pesticide registrations such as Special Local Needs (Section 24c labels) and Emergency exemptions (Section 18 labels)
Data have been cited in several funded grant proposals, to demonstrate needs as well as progress in IPM
Data collected among many Pacific Northwest specialty crop industries have been used to generate Integrated Pest Management Strategic Plans that identify research, education and regulatory priorities of those industries
Data are used to inform stakeholder comments on EPA pesticide registration reviews, including potential label changes that can impact growers. EPA, more often than not, has indicated
Data have been shared internationally to support industry transitions to more sustainable practices (e.g., in Brazilian and Mexican cotton growing regions)
Data developed provides an objective means for assessing the impacts of Integrated Pest Management (IPM) in crop production systems.
Meetings are designed as an interactive technical dialog between pest managers and researchers, typically Extension scientists. We incentivize the process and make it worthwhile for participants who provide critical real-world knowledge.
We conduct dedicated annual meetings with pest management experts for each crop. Typically, these are the licensed professionals who advise growers.
Whenever possible, we conduct face-to-face live meetings to encourage interactive dialog on pest management practices and emerging pest issues.
Surveys are typically presented in an interactive electronic format, and include data cross-verification and easy revisions for participants. This helps to ensure the quality of the collected data.
Facilitators are available to assist participants and answer questions.
The agenda includes educational presentations and resources on timely topics. We present the most recent pest management research available to participants.
Participants earn Continuing Education Units (CEUs).
Through grant funding, we are often able to provide travel reimbursement and incentives for participation.
Mail and online surveys are available to those who cannot attend in person.
Through this Signature Program of the Western IPM Center, this process, developed for cotton, lettuce and melons in the low deserts of Arizona and California, is now available for modification to other cropping systems. It has been deployed to document pest management status of several Pacific Northwest crops, including onion, mint, cherry, hazelnut and cranberry. Through this signature program, we welcome collaborations with other researchers, Extension personnel and crop industry partners throughout the West.
This website includes links to complete historical Arizona Cotton Insect Losses data (1979 to present) and the national cotton insect losses data and related information. The survey questionnaire, workshop presentations, and related publications are also available.
Data, publications and presentations related to head lettuce and melon insect losses are available on this site.
This material is based upon work that is supported in part by the National Institute of Food and Agriculture, U.S. Department of Agriculture (USDA NIFA), through the Western Integrated Pest Management Center. Any opinions, findings, conclusions, or recommendations expressed in this publication are those of the authors and do not necessarily reflect the view of the U.S. Department of Agriculture.